Yaar Chale Bahar Lyrics English Translation: This brand new Punjabi is sung by Gur Sidhu. It is from the album of the same title. The singer himself composed the tune as well as produced/directed the music for the song. Yaar Chale Bahar Lyrics are penned by Gurdas Sandhu.
Jass Dhillon, Gavy Daska and Yuvraj Turna are the featuring stars in the music video. The track was published by Troll Punjabi.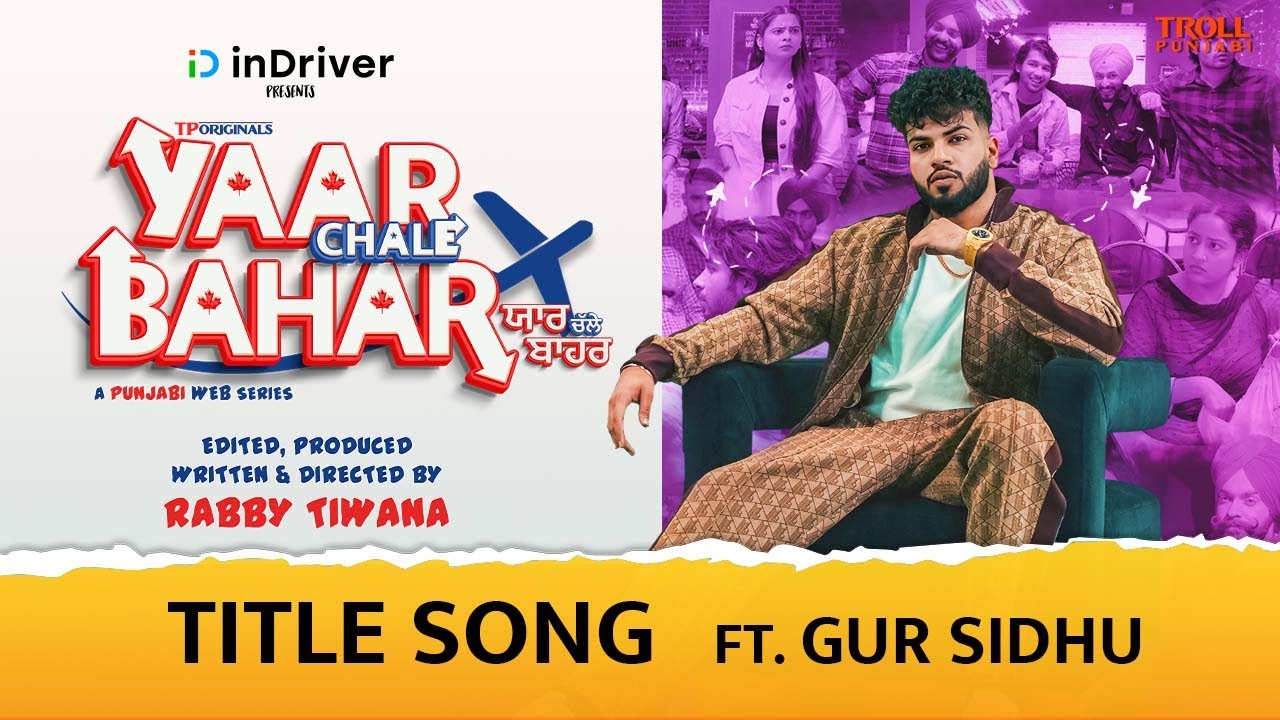 Yaar Chale Bahar Info
| | |
| --- | --- |
| Singer | Gur Sidhu |
| Album | Yaar Chale Bahar |
| Composer | Gur Sidhu |
| Lyricist | Gurdas Sandhu |
| Music Director | Gur Sidhu |
| Featuring Artist | Jass Dhillon, Gavy Daska, Yuvraj Turna |
| Music Label | Troll Punjabi |
Yaar Chale Bahar Lyrics
Gur sidhu music!
Hun neend mainu na aave
Ik gal jo roz satave
Bebe bapu ne chaunde
Munda set sadda ho jaawe
Velan da launa teg
Karu help bapu swag
Chakwi ji selfie pauni
Fad taira waala beg
Ikko thhan addi garari
Chadhke jahaz di baari
Leni cheti pr
Sannu dollar'an naal pyaar
Yaar chale bahar
Kadd jaana ban star
Yaar challe bahar
Jaande hi leni mustang car
Weekend te jaana bahar
Tanhiyon yaar challe bahar
Assi desi pinda waale
Darde english ton baahle
Syllabus ne pange paate
Ainne sun de dial ghumaate
Writing meri week yaaro
Sun chakkar aun chalaate
Kade suni speak audi aake
Jatt bolan bora khake
Listening de chakde phatte
Tu kaad'de launde ratte
Ik din vich 4
Aithe koyi na lainda saar
Yaar chale bahar
Naale mileya ni rojgar
Yaar chale bahar
Ristedaar khande khaar
Sun'na nai baar baar
Oh taanhi yaar chale bahar
I don't like jo kehndi
Vekhi nehde oh behndi
Mittran da time bhi auna
Phir osse nu tarsona
Jadon hoi porche thalle
Ohne dekh dekh pachhtona
Bapu bidte vich dollar
Jatt set karuga caller
Koi labhke pr gori
Jadon gal viah di tori
Ohvi hojugi taiyar
Ho breakup kargi naar
Yaar chale bahar
Jaandi zindagi gai khalar
Yaar chale bahar
Par manda ni jatt haar
Jaake labhna sacha pyar
Tanhiyo yaar challe bahar
Kuch rishtedaar se bandi
Karde jo meri pandi
Bebe de hath je adde
Bapu de supne wadde
Ik din dil nu millu tassalli
Jad pure kar kar chadde
Dekhuga jado saleeka
Machuga hor shareeka
Halle tan karja launa
Ik tagda mahal banona
Idhar aunde ae saar
Fasla nu paigi maar
Yaar challe bahar
Fail hoge saare vyapar
Yaar challe bahar
Bapu te sir te bhar
Saari tesnion deni utaar
Tanhiyo yaar challe bahar
Yaar challe bahar yaar challe babar
Yaar Chale Bahar Lyrics in Hindi
गुरु सिद्धू संगीत!
हुन नींद मैनु ना आवे
इक गल जो रोज़ सातवे
बेबे बापू ने चौंडे
मुंडा सेट सदा हो जावे
वेलन दा लौना तेगो
कारू मदद बापू स्वैग
चकवी जी सेल्फी पौनी
फड़ तायरा वाला बेगो
इक्को थान आदि गैरारिक
चढके जहां दी बारी
लेनी चेती प्रे
सन्नू डॉलरन नाल प्यारी
यार चले बहारी
कद जाना बन स्टार
यार चले बहारी
जाने ही लेनी मस्तंग कार
वीकेंड ते जाना बहारी
तनहियों यार चले बहारी
अस्सी देसी पिंडा वाले
दर्दे इंग्लिश टन बहले
सिलेबस ने पायेंगे
ऐने सन दे डायल गुमते
लेखन मेरी सप्ताह यारो
सुन चक्कर औं चलाते
कदे सुनी ऑडी आके बोलो
जट्ट बोलन बोरा खाके
चकदे फट्ते सुनना
तू कददे लौंडे रते
इक दिन विच 4
ऐठे कोई न लाईंदा सारी
यार चले बहारी
नाले मिले नी रोज़गार
यार चले बहारी
रिस्तेदार खंडे खारी
सुन्ना नई बार बारी
ओह तन्ही यार चले बहारी
मुझे जो मेहंदी पसंद नहीं है
वेखी नेहदे ओह बेहंडी
मित्रां दा समय भी औना
फ़िर ओस्से नु तरसोना
जादोन होई पोर्चे थाल
ओहने देख देख पछतोना
बापू बिदते विच डॉलर
जाट सेट करुगा कॉलर
कोई लभके पीआर गोरिक
जादोन गल वियाह दी तोरि
ओह्वी होजुगी तयारी
हो गोलमाल करगी नारी
यार चले बहारी
जांदी जिंदगी गई खलारी
यार चले बहारी
पर मंदा नी जट्ट हारी
जाके लभना सच्चा प्यारा
तन्हियो यार चले बहारी
कुछ रिश्ते से बंदी
करदे जो मेरी पंडी
बेबे दे हाथ जे Adde
बापू दे सुपने वडे
एक दिन दिल नु मिल्लू तस्सल्ली
जड़ शुद्ध कर कर चड्डे
देखोगा जादू सलीका
माचुगा होर शेयरीका
हाले तन करजा लौना
इक तगदा महल बनोना
इधर औंदे ऐ सारी
फ़सला नु पैगी मारे
यार चले बहारी
असफल होंगे सारे व्यापार
यार चले बहारी
बापू ते सर ते भारी
सारी टेसनियन डेनि उतरी
तन्हियो यार चले बहारी
यार चले बहार यार चले बाबरी
Yaar Chale Bahar Lyrics English Translation with Meaning
Guru Sidhu Music!
I can't sleep now
One thing that Rose Seventh
Babe Bapu has chosen
The shaved set is always there
Velan's Launa Tego
Karu help Bapu swag
Chakvi took a selfie
Bego with the fruit star
Icco Than etc. Gararic
Climb where the turn
Lenny Cheti Pre
Loved by Sannu Dollars
Yaar Chale Bahari
Stature go become a star
Yaar Chale Bahari
You must buy a Mustang car
Going out on the weekend
Tanhiyon Yaar Chale Bahari
We have a country village
Darde English tons flowed
The syllabus will find
Anne Sun's dials are missing
Writing my week guys
Listen to the cycle I run
Ever heard of Audi come and speak
Jatts speak eating sacks
Listening to the chuckles
You're a guy
4 in a day
No one here brings it all
Yaar Chale Bahari
There is no employment in the drains
Yaar Chale Bahari
Relative fragments are salty
Sunna new bar turn
Oh little friend went spring
I don't like Joe Mehndi
Vekhi nehde oh behndi
Friends will also have time
Then thirst for it
Jadon Hoi Porche Thal
Regret seeing the same
Dollars in Bapu Bidte
Jat will set the collar
No one finds PR Gorick
Jadon gal viyah di tori
Ohvi Hojugi preparation
Be a roundabout woman
Yaar Chale Bahari
Life went on and on
Yaar Chale Bahari
But the slow-moving Jatt lost
Go and find the true love
Then the friend went outside
Closure from some relationship
Do what my friend does
Babe's hand J. Adde
Bapu's dreams are big
One day I will find comfort in my heart
Root cleanse and tights
You'll see the magic taste
Machuga and his wife
Recently tan debt return
Build a strong castle
They all come here
Peggy killed the crop
Yaar Chale Bahari
All businesses will fail
Yaar Chale Bahari
Bapu and head and heavy
All Tesnian Denny got off
Then the friend went outside
Yaar Chale Bahar Yaar Chale Babri
Keep tuning with Lyrics Raw for more lyrics.