Cherathukal Lyrics: This Malayalam language song from the South Indian film Kumbalangi Nights. It is sung by Sithara Krishnakumar and Sushin Shyam. The music is given by Abin Paul. Anwar Ali is the writer of Cherathukal Lyrics.
Fahad Faasil and Shane Nigam are the featuring artists in the music video. Bhavana Studios published the song under their banner.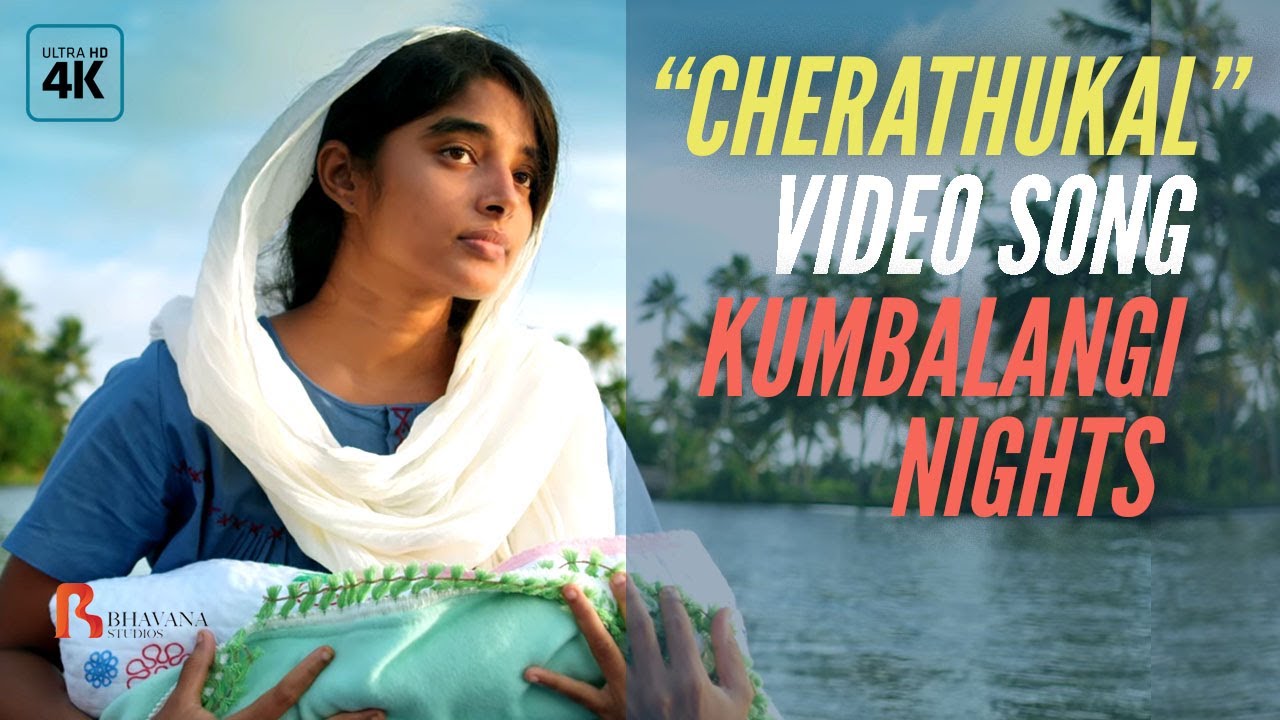 Cherathukal Info
| | |
| --- | --- |
| Singer | Sithara Krishnakumar, Sushin Shyam |
| Movie | Kumbalangi Nights |
| Composer | Abin Paul |
| Lyricist | Anwar Ali |
| Music Director | Abin Paul |
| Featuring Artist | Fahad Faasil, Shane Nigam |
| Music Label | Bhavana Studios |
Cherathukal Lyrics in English
Cherathukal Thorum Nin Theyormayaay
Tharaathe Pom Charuvam Ummakalaal
Chuzhalunnoree…Kuttakoorirul…
Kaziyolam Njaneriyam…Aaa…
Ulakin Kadunovattum Thanuthoru
Pularkattay Veeshidam Njaan
Ushasin Nanamey Thorthanirangum
Veyilayidam…Paarilorunjalayalayaayi Njaan
Varaam…Ninakakashamaay
Nirayunnoree Kannerkayangal
Kadal Njaan…Kareridam…Aaa
Makane Njanundarikathoru Kanakannottamaay
Makane Njanundakalathoru Kavalmalaghayaay
Cherathukal Song Lyrics in Malayalam
ചെറത്തുകാൽ തോറും നിൻ തെയോർമ്മയായ്
തരാതെ പോം ചരുവം ഉമ്മകളാൽ
ചുഴലുന്നോരീ…കുട്ടക്കൂരിരുൾ…
കാഴിയോലം ഞാനേരിയം…ആ…
ഉലകിന് കടുനോവത്തും താണുതൊരു
പുലർക്കട്ടയ് വീശിടം ഞാൻ
ഉഷാസിൻ നാനാമേ തോർത്തനിരങ്ങും
വെയിലിടം…പാരിലൊരുഞ്ജലാലയമായി ഞാൻ
വരാം…നിനാകകാശമായ്
നിറയുന്നോറീ കണ്ണേർക്കയങ്ങൾ
കടൽ ഞാൻ…കരേരിടം…ആആ
മകനേ ഞാനുന്ദരികതൊരു കനകനോത്തമായ്
മകനേ ഞാനുണ്ടകലതൊരു കാവൽമലഘായ്
Keep tuning with Lyrics Raw for more lyrics.